Our bookkeeper, Sharyl, has 24 years of experience and became an invaluable addition when she joined our firm 10 years ago. Whether you are an established company that would like to focus more on running your business than managing the books, or you are just starting up a company, contact Sharyl to help you simplify the bookkeeping and payroll process.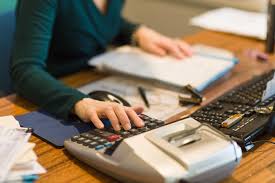 We offer bookkeeping services for small to medium sized businesses (1-100 employees), with a wide variety of services. We will file your monthly, quarterly and yearly payroll and sales tax liability returns making sure that you are up to date with the new transit tax and other additional local and use taxes and any financial statements (balance sheet, itemized profit and loss statements) that you may require will also be provided. We will compute your employee paychecks for you on a weekly/bi-weekly basis, or just prepare your W-2s and 1099s for the year.
Our bookkeeping rates are time based. The base fee is $50/hour with the average client being charged $100/month. Actual rates depend on the business and vary too much to quote beyond the $50 base fee. Please contact us to receive a more detailed quote for your business.
Phone: 651-674-7648
email: taxman@jonmoultonaccounting.com